We're proud to offer the very best DJ and karaoke services in the area, and we're happy to provide those services to a wide variety of events.  Don't be fooled by the low investment to no investment DJ services, many who do not own a sound or light system, do not own their music, etc.  There are those that the only service they actually provide is to take a request, look it up on sites such as Spotify and play the song, no different than if they were making jukebox selections for someone.  They often have little, if any, knowledge of the the music they play.
No matter what you're celebrating, we've got you covered with a huge variety of songs, professional lighting and an incredible sound system.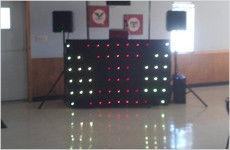 All Types of Events
Wedding Parties
Corporate events
School Dances
Dance Parties
Birthday Parties
Christmas Parties
Receptions
Any event requiring sound & lighting
Athletic events
Anniversaries
Class Reunions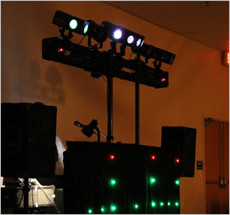 Memory Lane Music Service, Inc has three quality levels to serve you
Premiere
Our "Premiere" systems are true $10,000.00 sound systems with over $4,000.00 speakers with subwoofers and a bi-amped 4,000 watts. Combine this with several sound enhancement equipment components and you have a sound system quality unmatched
in southern Illinois.
Standard
Our "Standard" quality sound systems are roughly $3,500.00 sound systems. When you consider the industry average quality for DJ sound systems is about $1,000.00, these systems still provide an excellent sound for the more budget minded customer
Budget
Our "Budget" sound systems are still above industry averages at around $1,500 – $2,000.00 sound systems. This is an excellent choice for anyone on a limited budget, with quality still in mind.
All of our sound systems include four laser lights along with other special effect lighting. Combine all this with the most comprehensive music library, (GUARANTEED), in the area and you have a quality of shows without equal in southern Illinois.
Additional Service Options
Karaoke
Over 14,000 separate songs, two $100.00 professional microphones for singers, LCD/LED TV's, etc. (Not recommended for wedding receptions).
Pricing Guide For Additional Services
If interested in any of our additional services please contact me ASAP for more information as we currently have only one of each service. Therefore they are being booked on a first come first serve basis. To add Karaoke to an event there is no additional charge, just subject to availability. If you want your event to be that one of a kind, stand out event, these packages will enhance your event tremendously. At Memory Lane Music Service, Inc. we never stop trying to find ways to serve our customers with quality products and quality service.
Karaoke – No Charge
(Again, not recommended for Wedding receptions)
Expand the Sound –  $100.00 per wireless speaker
How often have you been at an event and the sound from the DJ system was too loud, especially up close, yet you couldn't make out anything being said toward the back of the room?  The first problem could be a cheap sound system or it could simply be you need more speakers. We can add speakers wirelessly anywhere you like as long as we are close to an outlet.
Ceremony System – $150 includes a powered speaker with two inputs for a laptop and wireless lapel microphone
We provide all the music from 30 minutes before the ceremony start and during ceremony "up to" a 30 minute ceremony.
2,000 Watt Honda Inverter Generator
$75.00 w/ show rental – includes 1 tank of gas
$125.00 generator only – includes 1 tank of gas
6.500 Watt Honda Inverter Generator
$200.00 w/ show rental – includes 1 tank of gas
$350.00 generator only – includes 1 tank of gas