Karaoke is a fun way to enjoy music at any event, (Not recommended for Weddings), and our professional DJ's offer the highest quality service around. We provide two $100.00+ microphones for singers, a 14,000+ karaoke song library, a 20" LED TV for singers and an option of mounting a 40" LED TV for guests to watch and sing along. When adding the 40" TV we can also play 14,000 music videos and growing in between singers and/or during breaks in the action, etc.
We introduced karaoke to the area a few decades ago, and we're proud to still be offering the same level of quality services.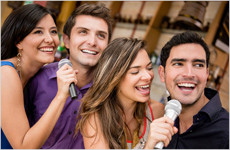 A Huge Variety of Songs
We're proud to own an enormous selection of over 14,000 songs programmed for karaoke, and our collection is still growing! No matter what your favorite song is, odds are we've got it ready for you.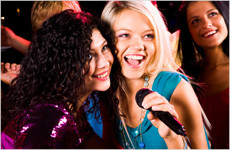 Available with DJ Service
Our incredibly fun karaoke services are available with an entertaining DJ to help guide the party along. No matter what you're celebrating, karaoke may be just the thing to make your event truly memorable.